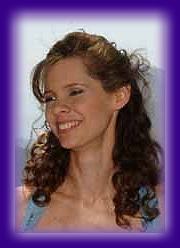 Lisa's love for Magic and Theatre began as a small child in Brisbane. She recalls performing her first magic show at school camp. In her early teens, she was actively involved in the local magic club.
Her interest in costumes goes back just as far. At 6 years of age, she was already creating outfits for her Barbie dolls.
These two interests would form the foundation for a magical journey that has taken her across Australia and around the globe.
As a performer, Lisa is one of the few professional women magicians in the world. Over the years, she has entertained audiences from ages 3 to 93. From intimate private parties to large shows and festivals, her delightful characters are a refreshing blend of wonder and charm. She is equally adept at Close-up and Stage Magic, as well as elaborate Balloon Artistry and Face Painting.
Lisa is one of the top stars of the annual Palace of Magic Festival where her character, Colombine, has been a perennial favorite with children and adults alike. She has also appeared at Stirling Castle, Falkland Palace and The Gleneagles Hotel, just to name a few. In 2004, she starred with Jay Scott Berry and Mark Fisken on the Edinburgh Fringe Festival at the historic Georgian House.
As a costume designer, she has been equally prolific. In the field of Magic, she is unique in all the world. Her creative design skills coupled with her understanding of the secrets and methods of the Art give her an insight that no ordinary tailor could possibly possess. It is for this reason that she has now become one of the most respected costumers for magicians and theatrical performers worldwide.